People at UNIQA
Employer branding: What attracts talents today
●
26.01.2023
●
5 minutes reading time
In the autumn of 2022, UNIQA launched its first Austria-wide employer branding campaign #startyourbetter - inviting prospective employees to start a career at UNIQA. But what makes employers attractive and how can they differentiate themselves from the competition? Providing good answers to these questions is particularly important in times of a shortage of skilled workers and changing demands in the new ways of work. We spoke with UNIQA Employer Branding Expert Florian Graßmück about the challenges employers face, the idea behind the UNIQA campaign and how HR marketing will develop in the future. 
As an employer branding expert, you are intensively involved with UNIQA as an employer brand. What exactly are your tasks and challenges?
Employer branding is such a broad topic, it is often difficult to distinguish it from others. Basically, it's everything you do as an employer, but also everything you don't do. That shapes the employer brand and therefore also falls within my area of responsibility.  
One classic task, for example, is managing our online presence as an employer: how is our career page designed, how do we present ourselves on various career platforms, what information do we share about the UNIQA working world on LinkedIn and so on. Also, cooperation and events with universities, students and career fairs are part of my tasks. It is important to always be honest and authentic, to bring real employees in front of the curtain and to give a good insight into the working world at UNIQA. Another task is to analyze studies and best practices on the topic of employer attractiveness and to derive specific measures, e.g. which new benefits we should establish at UNIQA.  
In the autumn of 2022, there UNIQA launched the Austria-wide advertising campaign with the call #startyourbetter. What exactly is behind the start your better idea?  
In order to differentiate UNIQA as an employer from the competition, we need a clear understanding of who we are as an employer. Ideally, this should be more and more profound than a few generic phrases. In 2022, we took an in-depth look at our employer qualities in a comprehensive project and found out a lot. If you're interested in even more details, you should definitely check out our careers page. But the most important finding is: UNIQA is the employer where you can start your career better and actively shape it. Accordingly, we have chosen the group-wide claim #startyourbetter. As a motivating call to action, so to speak, to get started at UNIQA, regardless of whether you are a long-standing employee or a newcomer. Choosing UNIQA is a decision for better life. We conveyed this idea with the autumn campaign (which, by the way, is the very first employer branding campaign ever at UNIQA).   
Can you already see the first results of the #startyourbetter-campaign (more applications)?  
We can see from the first market research results that the campaign has been well received and that the message we want to send is well understood.   
As far as applications are concerned, I noticed in December that we were suddenly able to fill a lot of positions and that some applicants had already made a reference to the campaign in interviews. That makes us happy, of course. 
#startyourbetter-campaign Citylights and online.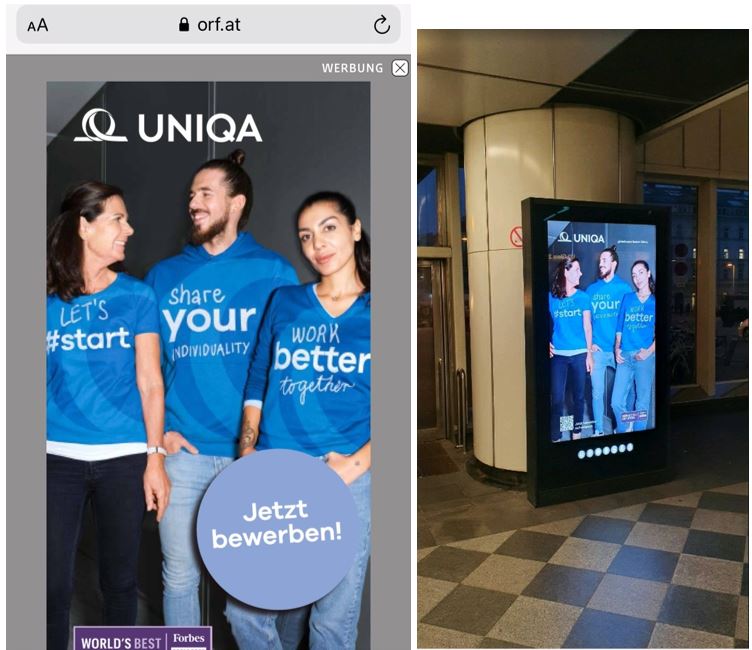 We keep hearing about the "war for talent". What challenges do employers face these days?  
The term "war for talent" is now on everyone's lips and should certainly be treated with a great deal of caution in view of the terrible war in Ukraine. But if we want to stay in that language, I heard this saying the other day: "The battle for the best talent is over. The talent has won it. Companies need to adapt." I think that sums it up. Demographic, economic and social changes mean that the labor market is increasingly becoming an employee market. Well-educated, highly qualified professionals can choose their employers. This means that as a company, we have to offer more and more and look for and approach talent in different ways than we did just a few years ago.  
The next generations are starting their working lives. So what makes up generations Z & Y? What are their expectations of their employer?  
Sometimes I hear people say that young people don't want to work anymore. I see it differently. They definitely want to work, but differently. The younger generation has understood the importance of psychological and physical well-being. Work is no longer just about earning money; young talents want to do meaningful work that they can also identify with. To break it down to two buzzwords: Generation Y and Z expect their employer to be flexible and actively contribute to their well-being. Generous offers of part-time work, home office, sabbatical etc. And above all, they expect concrete offers that support their physical and mental health. I think that at UNIQA we are already very well positioned in this regard and offer our employees a wide range of benefits that support them in leading an active and meaningful life. But it is also clear that there is always room for improvement. 
What measures does UNIQA take to successfully retain employees of all generations?  
As already mentioned, I believe that we offer a lot through our work models (generous flexitime, low core time, very flexible home office options, home office cost allowance, meal subsidies, inexpensive and excellent employee restaurant, and much more) and that we also take good care of physical and mental well-being (Eversports vouchers, free coaching and counseling for all employees including their relatives).   
The whole list of offers, social benefits and other benefits is of course even longer, but in my opinion the basis for this is to put people at the center and to pay very central attention to their needs.  
More than just a "benefit" is, of course, a corporate culture in which we treat each other with respect and appreciation, yet still have the drive and desire to achieve something together. Our "Culture Office" continuously ensures further development with a comprehensive culture program.  

Young talents want to do meaningful work that they can also identify with. 

UNIQA is an international company in 18 countries. What does that mean for employer branding?  
It means that we must find the perfect balance to be perceived uniformly as a company and employer on the one hand. Something we certainly emphasize with the Group-wide employer claim #startyourbetter. On the other hand, we must allow enough freedom and flexibility to be able to respond to country-specific features of the labor market as well and to be proactive.  
A look into the future: Which trends in employer branding and HR marketing do you think will become increasingly important in the future?   
"Post and pray was yesterday" not only reads well because it rhymes, but it's also true. What it means is that simply posting a job and waiting for talented people to apply for it via our career site or other job platforms will no longer lead to the hoped-for results in the future. Why? Only five percent of all employed people are actively looking for a new job, but 35% would be open to a job change. So, we need to actively approach these people and no longer just wait to receive applications.    Another trend in my eyes is to become even more flexible and, for example, to also write out all positions in part-time or also implement new leadership models, such as part-time leadership or dual leadership.  
Thank you very much for the interesting interview! 
Personal details:
Florian Graßmück has been working at UNIQA since 2018. Since 2020, he has been working as Employer Branding Expert. Florian studied psychology and organizational & human resources development. It has always been very important to him to put people at the center and to value their individuality.